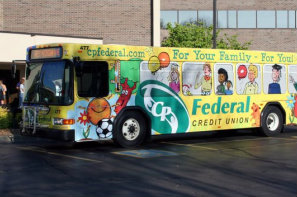 Membership
Of Course You Can Join!
Our vast field of membership makes it easy for nearly everyone in Mid-Michigan to join. Over the years we have grown to serve over 320 businesses, organizations, and schools in the Jackson, Brooklyn, Parma, and Ingham areas.
Are you an employee of any one of the nearly 200 businesses listed on our eligibility list?

Do your children attend school in any of the numerous schools in Jackson County we are involved with?

Do you belong to any of the several dozen organizations or churches in our field of membership?

Are you a family member of a current member?
If any of the above apply to you, than you can join the CP Federal Credit Union family of over 43,000 members! We have several ways you can be eligible for membership. And once you're a member, you're entire family can be members...and you all can retain membership for life regardless of where you work or live.
Once you establish your eligibility, it couldn't be easier to join. There is a one time, $1 membership fee plus a $5.00 minimum deposit in your savings account. This is your share in the credit union, which allows you to vote for your Board of Directors. Remember, you are not just a member; you are an owner of CP Federal!
Visit any location or call 517-784-7101 or 800-554-7101 to join today!